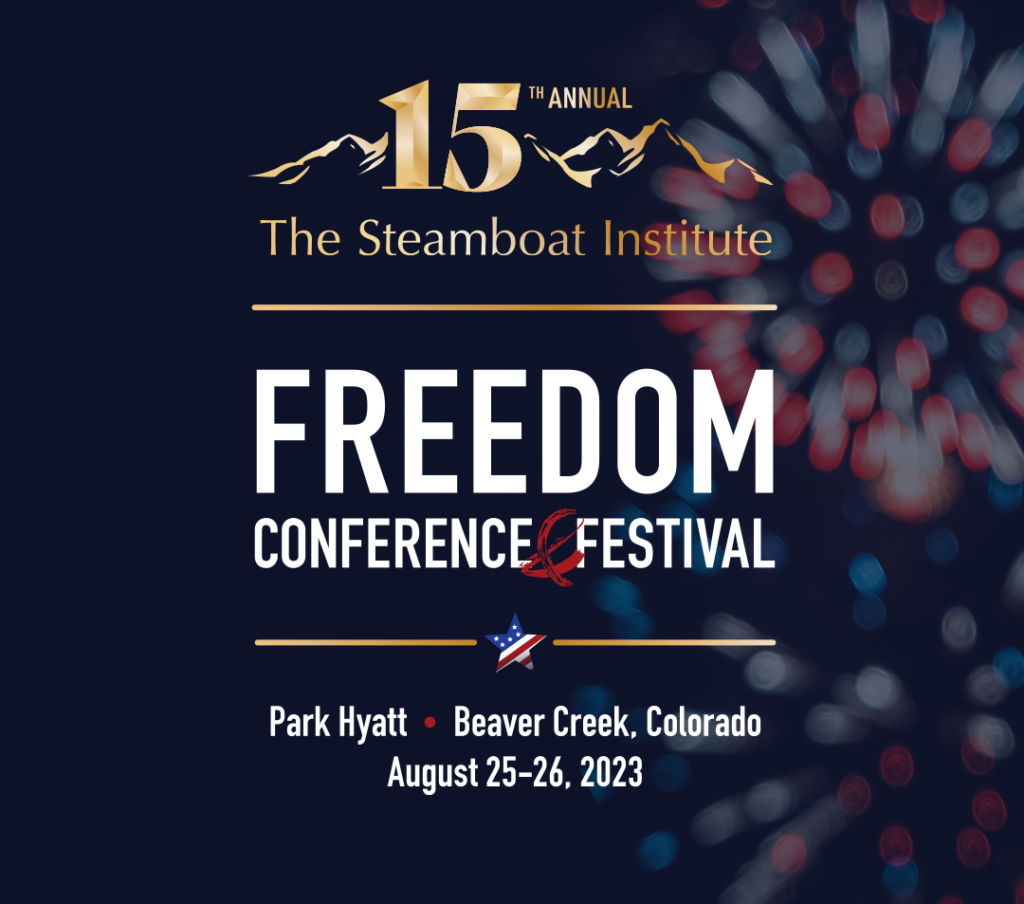 Friday, August 25th:
8:00 – 9:00am: Coffee and pastries available
9:00am – Conference opening, featuring remarks by JENNIFER SCHUBERT-AKIN, Chairman, CEO and Co-founder of The Steamboat Institute, and our National Anthem performed by MARY MILLBEN, singer/actress/recording artist and recipient of the 2023 Lee Greenwood Patriot Award
9:15 – 10:00am: KEVIN ROBERTS, President of The Heritage Foundation, speaking on "Reaffirming American Exceptionalism with Conservative Principles"
10:15 – 11:00am: "Reversing the Descent into Nonsense: How We Can Restore Civilized Discourse and Bridge Divides," featuring GERARD BAKER of The Wall Street Journal and Democratic strategist/talk radio host LESLIE MARSHALL, moderated by KAYLEE MCGHEE WHITE of the Washington Examiner
11:00 – 11:45am: "Stopping Big Government Bidenomics from Devouring America's Economic Vibrancy" featuring STEVE MOORE, Distinguished Fellow in Economics with The Heritage Foundation, Senior Economic Advisor to President Trump, and author of "Govzilla: How the Relentless Growth of Government is Devouring Our Economy and Our Freedom," moderated by MANDY CONNELL, host of The Mandy Connell Show on KOA Radio Denver and iHeart Media
12:15 – 1:00pm: Luncheon Presentation: " The Universal Struggle for Freedom" featuring SEBASTIEN LAI, son of Jimmy Lai, Hong Kong democracy leader and publisher of Apple Daily, currently imprisoned in China for his advocacy for democracy and press freedom, moderated by JILLIAN KAY MELCHIOR, Member of the editorial board of The Wall Street Journal, 2015-17 Tony Blankley Fellow with Steamboat Institute
1:15 – 2:00pm: "Stopping Endless Bailouts: How We Can Prevent Financial Collapse and Solve the Homeless Crisis" featuring MARK CALABRIA, Senior Advisor to Cato Institute, Former Director of Federal Housing Finance Agency (which regulates Fannie Mae and Freddie Mac), author of "Shelter from the Storm: How a Covid Mortgage Meltdown was Averted"
2:15 – 3:00pm: "Restoring Sanity in Academia: Policy Fixes for American Higher Ed" featuring TODD ZYWICKI, Professor of Law, Antonin Scalia Law School at George Mason University; 2023 Visiting Scholar in Conservative Thought and Policy at the Benson Center for the Study of Western Civilization at CU Boulder
3:00 – 3:45pm: "The Snowflakes' Revolt: How Woke Millennials Hijacked American Media" featuring AMBER ATHEY, Washington Editor of The Spectator and Tony Blankley Senior Fellow with Steamboat Institute
3:45 – 4:00pm: Author book-signings
6:00 – 7:00pm: VIP Reception and Photo Opp with DANA PERINO, White House Press Secretary for President George W. Bush and co-host of "America's Newsroom" and "The Five" on Fox News Channel. During the reception, guests will enjoy live music performed by PETER FONTANESE, Country music singer and guitarist from the Vail Valley
7:00 – 9:00pm: Keynote Dinner, "Love 'em or Hate 'em: The Political Realities – Right Now," featuring DANA PERINO and emcee MANDY CONNELL, with special musical performance by MARY MILLBEN. Dinner will also feature presentation of the 2023-24 Tony Blankley Fellowships for Public Policy and American Exceptionalism.
Saturday, August 26th:
8:00 – 9:00am: Hot breakfast buffet available
8:30 to 9am: "Breakfast with Bogden: Crossroads or Roundabout? American Foreign Policy at a Critical Juncture" featuring GEORGE BOGDEN
9:00 – 9:45am: "Update from the U.S. House Committee on Oversight and Accountability, including investigation into Biden family's financial dealings" featuring CONGRESSMAN PETE SESSIONS (representing the 17th Congressional District of Texas), moderated by SARAH BEDFORD, reporter for the Washington Examiner who has done extensive investigative reporting on this issue, and Tony Blankley Senior Fellow with Steamboat Institute
10:00 – 10:45am: "Maintaining Fairness in Women's Sports" featuring RILEY GAINES, 12-time NCAA Champion Swimmer and advisor with Independent Women's Voice
10:45 – 11:30am: "How the National Decarbonization Movement is Affecting Reliability and Affordability of Electricity" featuring:
ROBERT BRYCE, host of "Power Hungry" podcast, author of "A Question of Power: Electricity and the Wealth of Nations," and documentary film producer
AURELIA S. GIACOMETTO, Chair of Technology Committee for Ramaco Resources, a publicly traded metallurgical coal company; Director of the U.S. Fish & Wildlife Service (2019-21)
ALICE JACKSON, Senior Vice President, System Strategy, and Chief Planning Officer for Xcel Energy
HADLEY HEATH MANNING (MODERATOR), Vice President for Policy with Independent Women's Forum and Tony Blankley Senior Fellow with Steamboat Institute
11:30 – 12:00pm: "Spotlight on Our Next Generation of Leaders" featuring members of Steamboat Institute's Emerging Leaders Council
12:30 – 12:45pm: Presentation of the COURAGE IN EDUCATION Award to RANDY WAYNE, Associate Professor at Cornell University, champion of free speech and civilized debate and discourse
12:45 – 1:45pm: KEYNOTE CLOSING LUNCHEON, featuring THE HONORABLE KRISTI NOEM, Governor of South Dakota; following Governor Noem's remarks, she will be interviewed by PHILIP WEGMANN, White House Reporter for Real Clear Politics and Tony Blankley Senior Fellow with Steamboat Institute
1:45 – 1:55pm: Closing remarks by JENNIFER SCHUBERT-AKIN, Chairman, CEO and Co-founder, The Steamboat Institute
1:55 – 2:00pm: Closing musical performance by MARY MILLBEN
5:00 – 7:00pm: COYOTE GOLD MARGARITA PARTY and live music, featuring TIM CAMPBELL, singer/guitarist from the Vail Valley