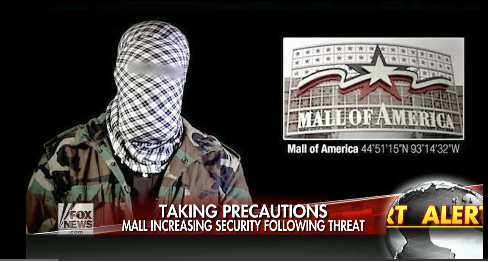 Scary looking, isn't it? Somali Islamic terrorist group al-Shabaab put out a video calling for a terror attack on the Mall of America. Their video showcases the GPS coordinates of the mall and security has been beefed up, but it's hard to imagine extra guards are going to stop radicals on what they would call a mission from "Allah."
The threat comes from the same group that left 67 people dead in a mall in Nairobi, Kenya last year. A Fox News clip reminds us that in that Nairobi mall, victims were asked if they were Christians — then executed on the spot if they responded in the affirmative.
Former Congressman and United States Army, Lieutenant Colonel Allen West makes a eerily good point about the reality of this attack, specifically because of what part of the country it's in. He writes:
The Mall of America is located in a place where countless Somali refugees reside — Minneapolis, Minnesota — the largest concentration of Somalis in America. It is known and has been reported that there have been young Somalis departing and returning to Somalia to fight with al-Shabaab. And worse, there have been at least two individuals who have been found in Syria from the Minneapolis area who were fighting with ISIS. We have proof that al-Shabaab has already executed a savage and heinous Islamic terrorist attack in Kenya. In that attack there were only some 5 terrorist assailants. However, it's not just the threat, it is about the arrogance and the emboldened state that would enable this group to issue such a threat.

The psychological effect is great, as we must take the threat seriously, and treat it as credible. This is part of a struggle for Islamic terrorist viability and status. Why? Because ISIS is the "big dog" on the Islamic jihadist street right now, but al-Qaida wants to restore itself, with whom al-Shabaab is aligned – while Boko Haram has aligned itself with ISIS. This is the strategic world of modern militant Islam which the Obama administration refuses to acknowledge — resulting in very enticing perceived weakness.
We don't know when the next 9/11 is going to happen in the United States — but we do know someone, somewhere is planning it right now. Allen West is right to point out that this Administration is likely emboldening that plan with their foolish refusal to call it what it is.