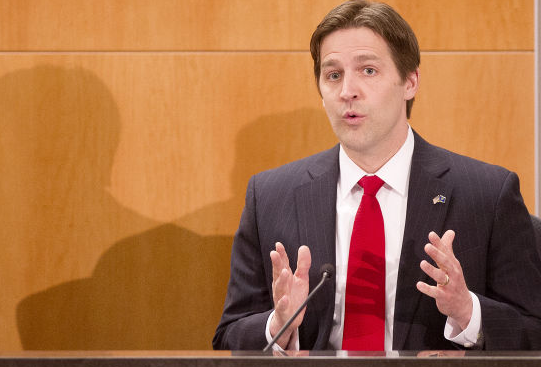 We ran across a wonderfully written Facebook post from Senator Ben Sasse this morning. Sasse will be a speaker at our Freedom Conference this year — so get ready for an awesome speech!
Many have shared this already but we wanted to make sure you saw it — a MUST-READ! Here's an excerpt:
TO: Those who think both leading presidential candidates are dishonest and have little chance of leading America forward:
(…or, stated more simply)
TO: The majority of America:
Note: If you are one of those rare souls who genuinely believe Hillary Clinton and Donald Trump are honorable people – if they are the role models you want for your kids – then this letter is not for you. Instead, this letter is for the majority of Americans who wonder why the nation that put a man on the moon can't find a healthy leader who can take us forward together.
I want to tell you about four unsolicited conversations from the Fremont Wal-Mart this morning:
**Retired union Democrat meat-packer:
"What the heck is wrong with that city where you work? Why can't they give us a normal person? Is it really so hard?"
Me: "Actually, it is for them – because most people in DC buy the nonsense that DC is the center of the world. You and I, despite our party differences, both agree that Fremont is the center."
Union Democrat (interrupting): "…Because this is where my grandkids are."
**Young evangelical mom:
"I want to cry. I disagree with Hillary Clinton on almost every single thing – but I will vote for her before Trump. I could never tell my kids later that I voted for that man."
**Middle-aged Republican male (more political than the other folks):
"It feels like the train-car to hell is accelerating. Why is DC more filled with weirdos and yet more powerful at the same time? How do we slow this down long enough to have a conversation about actually fixing our country?"
**Trump supporter (again, unsolicited):
"Please understand: I'm going to vote for him, but I don't like him. And I don't trust him – I mean, I'm not stupid. But how else can I send a signal to Washington?!"
________
I've ignored my phone most of today, but the voicemail is overflowing with party bosses and politicos telling me that "although Trump is terrible," we "have to" support him, "because the only choice is Trump or Hillary."
This open letter aims simply to ask "WHY is that the only choice?"
Melissa and I got the kids launched on homework, so I've been sitting out by the river, reflecting on the great gap between what folks in my town are talking about, and what folks in the DC bubble are talking about.
I trust the judgment of this farm town way more than I trust DC. And so I'd like to share a dozen-ish observations on these Wal-Mart and other conversations today:
1. Washington isn't fooling anyone — Neither political party works. They bicker like children about tiny things, and yet they can't even identify the biggest issues we face. They're like a couple arguing about what color to paint the living room, and meanwhile, their house is on fire. They resort to character attacks as step one because they think voters are too dumb for a real debate. They very often prioritize the agendas of lobbyists (for whom many of them will eventually work) over the urgent needs of Main Street America. I signed up for the Party of Abraham Lincoln — and I will work to reform and restore the GOP — but let's tell the plain truth that right now both parties lack vision.
2. As a result, normal Americans don't like either party. If you ask Americans if they identify as Democrat or Republican, almost half of the nation interrupts to say: "Neither."
3. Young people despise the two parties even more than the general electorate. And why shouldn't they? The main thing that unites most Democrats is being anti-Republican; the main thing that unites most Republicans is being anti-Democrat. No one knows what either party is for — but almost everyone knows neither party has any solutions for our problems. "Unproductive" doesn't begin to summarize how messed up this is.
Read the full list & letter from Ben Sasse here.