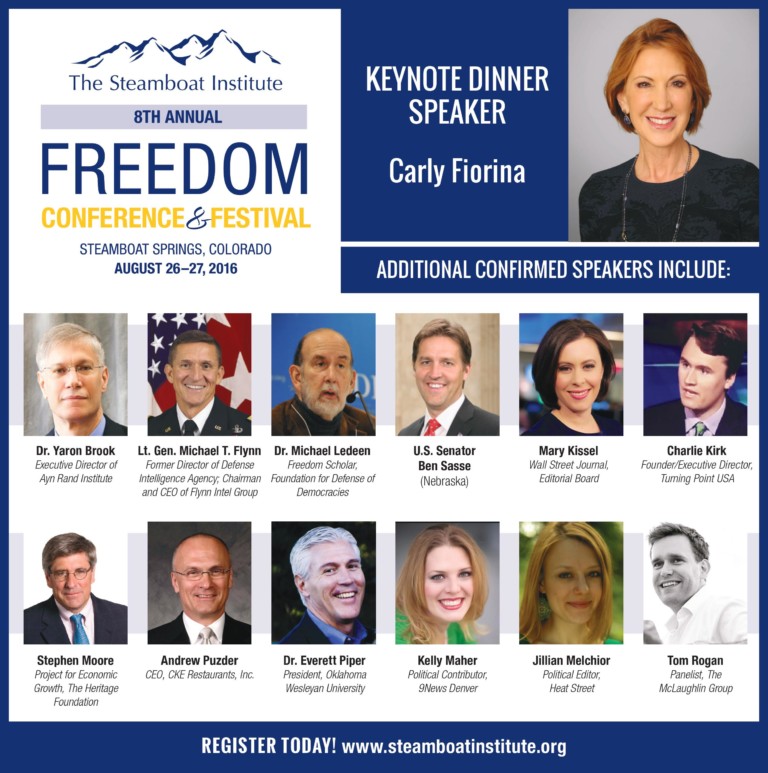 Steamboat Springs, CO, May 26, 2016– The Steamboat Institute announced today that former HP CEO and Presidential candidate, Carly Fiorina, will deliver the keynote dinner address at its 8 th Annual Freedom Conference & Festival in Steamboat Springs, Colorado, on Friday, August 26, 2016.
"We're incredibly honored to have Carly Fiorina address the Steamboat Institute. Carly is a tested leader, who understands the values and principles that make America great…the same principles we promote with the Steamboat Institute. Carly's message of unlocking the God-given potential in each person is an inspiring one. Our guests will be treated to an unforgettable evening," said Jennifer Schubert-Akin, Chairman and CEO of the Steamboat Institute.
Other speakers for the 2-day event include Senator Ben Sasse (Nebraska), Stephen Moore (Heritage Foundation), Yaron Brook (Ayn Rand Institute), Lt. Gen. Michael T. Flynn, Michael Ledeen (Foundation for Defense of Democracies), Mary Kissel (Wall Street Journal editorial board), and Charlie Kirk (TurningPoint USA).
"We are extremely proud that the Steamboat Institute continues to attract our nation's conservative thought and policy leaders to Colorado. We are looking forward to a robust exchange of ideas at our 8 th Annual Freedom Conference & Festival, August 26-27, in the spectacular Rocky Mountain setting of Steamboat Springs, Colorado," said Schubert-Akin.