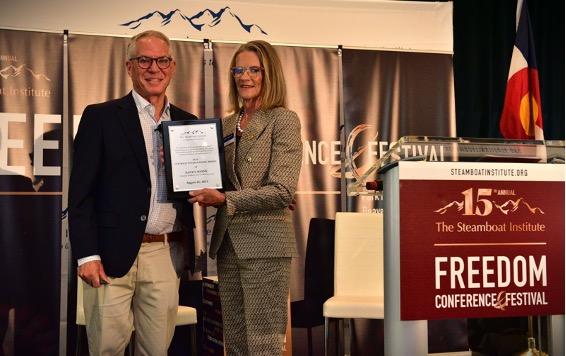 ** Randy Wayne recognized for promoting free speech and free thinking on campus **
BEAVER CREEK, CO – Steamboat Institute has named Randy Wayne, Associate Professor in the School of Integrative Plant Science at Cornell University, the winner of the 2023 Courage in Education Award. 
The award was presented this past weekend at Steamboat Institute's 15th Annual Freedom Conference in Beaver Creek, CO.
"Colleges and universities should be making America better, but they are not," said Wayne. "Far too many college and university students are afraid to open their minds to ideas that oppose the party line and open their mouths to question the allowed ideas. This is a tragedy for the personal growth of each student and for the growth of an open society to form a more perfect union." 
Wayne also noted that the Steamboat Institute Campus Liberty Tour helped demonstrate that civil and intellectual debate on contentious issues is possible, even in places like Cornell, where the current administration does not support viewpoint diversity.
"Professor Wayne is a courageous and tireless advocate for free speech and intellectual diversity," said Jennifer Schubert-Akin, co-founder and chairman of Steamboat Institute. "Because of his unwavering support and leadership, Steamboat Institute successfully hosted a robust debate on energy and climate change at Cornell University this past March. Cornell students are fortunate to have Professor Wayne as a champion for free speech who encourages the development of critical thinking skills."
WATCH THE CAMPUS LIBERTY TOUR CORNELL DEBATE
Steamboat Institute created the Courage in Education Award to recognize and encourage leadership and courage in promoting intellectual diversity on campus and in advancing conservative thought and policy. The Courage in Education Award is granted each year to an institution or member of academia who demonstrates a commitment to open inquiry, free speech, and intellectual diversity.
Past recipients of the Courage in Education Award include Ilya Shapiro, Esq.; Jameson Broggi, Esq.; Hillsdale College; Samuel Abrams, Professor of Politics and Social Science at Sarah Lawrence College; Wallace Loh, President of the University of Maryland; Brandon Van Dyck, Assistant Professor of Government and Law at Lafayette College; and Bruce Benson, President of the University of Colorado.
Cornell stacks new free speech committee with DEI scholars, By Randy Wayne