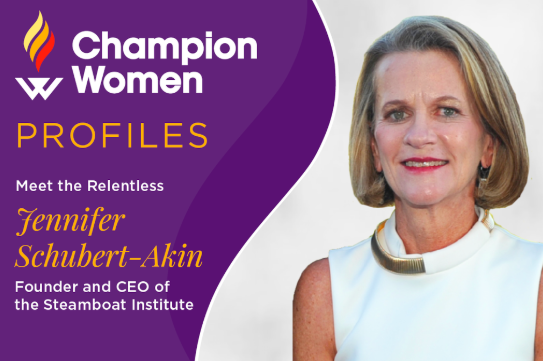 The Independent Women's Forum published an in-depth profile on Steamboat Institute Chairman and CEO Jennifer Schubert-Akin. It recounts the origins of the Steamboat Institute:
When Schubert-Akin co-founded the Steamboat Institute, with husband Rick, she aimed high: why not have an Aspen Institute for conservatives? The Aspen Institute attracts statesmen, presidents and world famous intellectuals to its prestigious seminars and conferences. Schubert-Akin had heard radio host Laura Ingraham remark that she had just returned from being the "token conservative" at an Aspen Institute Ideas Festival.

Schubert-Akin, then Republican Party county chairman for Routt County in Colorado, already had been thinking about the need to better prepare candidates to absorb and compellingly express conservative principles. She had also just been through a training program run by a nonprofit group called The Leadership Program of the Rockies. "It trains participants in the founding principles of this country and gives them great access to speakers, including the country's leading conservative thought and policy people. I already had had this idea for a conservative speaker program and it occurred to me that it could be a conservative alternative to the Aspen Institute."

These three factors converged, and Jennifer and Rick, along with a small group of concerned citizens–all of whom had full-time careers–co-founded the Steamboat Institute, headquartered in Steamboat Springs, Colorado, an internationally recognized ski resort, in 2008. Jennifer and Rick are Oklahoma natives who met at the University of Oklahoma and lived in Austin, Texas, before moving to scenic Steamboat Springs. Jennifer was CFO of a large health and human services organization in Austin. Rick is an attorney and founder of The Akin Law Firm. After five years of serving as volunteer CEO, while running her small business consulting practice in Steamboat Springs, Jennifer became full-time Chairman and CEO of the Steamboat Institute in 2014. The scenic location is no accident. "Steamboat Springs is a very special setting because of the beautiful Rocky Mountains," she says. "Since it is a ski resort town, there are many similarities to Aspen in that regard.  And it was a place where, we discovered, people love coming in the summer, the speakers and the guests, who come from all over the country.
Read the full profile HERE.