In this episode of Liberty Chats, we speak with Philip Wegmann, White House Correspondent for Real Clear Politics and a Steamboat Institute Tony Blankley Fellow.
Ericka Andersen speaks with him about his career trajectory and why he chose journalism as a profession. Philip reveals what has been like to be part of the White House Press Corps in both the Trump and Biden Administrations. Don't miss his interesting reflections on current White House Press Secretary Jen Psaki!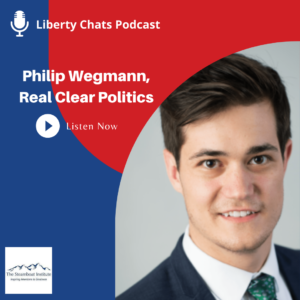 Philip previously wrote for The Washington Examiner and has done investigative reporting on congressional corruption and institutional malfeasance. He has also worked as a radio producer and congressional correspondent. He can be seen regularly on CNN, Fox, and Fox Business and his voice has been heard on the BBC, NPR, and numerous other radio outlets.
Recent episodes: