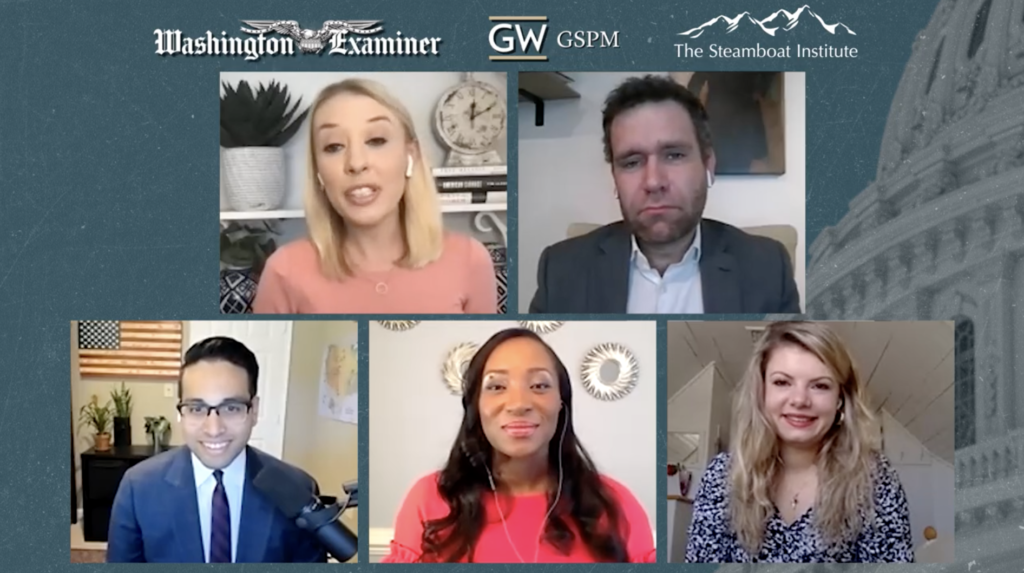 Media bias and conservatives: It seems those terms are always linked together — but is there more to it? Is there something we can do to restore trust in journalism? The GWU Graduate School of Political Management, the Washington Examiner, and the Steamboat Institute co-presented a virtual conversation regarding the role of the news media in our political discourse and how things need to change.
In this conversation, the panelists discuss media bias — something both liberals and conservatives sometimes use as an excuse. But is that the problem? What needs to change? How can journalists live up to the ethical standards expected of them?
This panel includes journalists, commentators, and communications strategists — including three of the Steamboat Institute's Tony Blankley Fellows. Don't miss this important conversation on ow the media can improve and regain viewers' trust.
Panelists & moderators include: 
Sarah Westwood: Political and investigative reporter for the Washington Examiner.
Tom Rogan: Commentary desk of the Washington Examiner and Tony Blankley Fellow.
Saagar Enjeti: Washington correspondent and host of Rising at the Hill TV and Tony Blankley Fellow.
Patrice Onwuka: Political commentator and director of the Center for Economic Opportunity at the Independent Women's Forum and Tony Blankley Fellow
Stami Williams: Communications director for Jack Ciattarelli's New Jersey gubernatorial campaign and an adjunct professor for George Washington University's Graduate School of Political Management