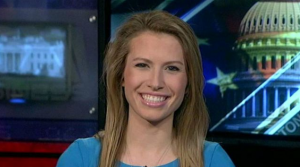 We are proud to announce today that Hadley Heath Manning is the recipient of the 2016-17 Tony Blankley Chair for Public Policy and American Exceptionalism.
"At the young age of 28, Hadley has established a national reputation as an excellent communicator on health care policy issues," said Founder Jennifer Schubert-Akin. "Like Tony Blankley, Hadley has a passion for clearly articulating free-market solutions for the proper role of government and what it means for citizens to re-assert their sovereignty and independence. We are proud to support the work of this outstanding young leader."
"It is an incredible honor to be selected as the next Tony Blankley Chair," said Manning, senior policy analyst and director of health policy at the Independent Women's Forum. "I have long admired the Steamboat Institute, and I look forward to working with this esteemed organization dedicated to America's founding ideas and our continued national prosperity. I will strive to honor Tony Blankley's name and legacy; he was the best kind of champion for conservatism, always communicating effectively and with wit and good cheer. I'm very thankful for this opportunity and can't wait to get started."
Manning will receive a $10,000 stipend, as well as support for travel, speaking engagements and investigative reporting trips. She will be honored at a dinner as part of the Steamboat Institute's 8th Annual Freedom Conference & Festival in Steamboat Springs, CO on August 26, 2016, where Carly Fiorina will be the keynote speaker.
"Hadley will be a strong and committed Fellow who will work hard to advocate for the Steamboat Institute principles that Tony wrote and spoke about so forcefully and eloquently," said Lynda Davis, widow of Tony Blankley.
The Selection Committee for the Tony Blankley Chair includes:
Ed Meese – 75th Attorney General of the United States
Lynda Davis, Ph.D. – widow of Tony Blankley
Steve Hofman – Consultant; former U.S. Assistant Secretary of Labor
Mary Kissel – Wall Street Journal editorial board
Lauren Maddox – Principal, Podesta Group; former Assistant Secretary, U.S. Department of Education
Thomas P. McDevitt – Chairman, Board of Directors – The Washington Times
John O'Sullivan – British commentator and former speechwriter for Prime Minister
Margaret Thatcher; Senior Fellow with National Review
John Roberts – author and TV producer for The McLaughlin Group (on which Tom Rogan is a panelist and on which Tony Blankley was a panelist for many years)
 Tom Rogan – Senior Blankley Fellow and columnist for National Review
"Reviewing the tremendous group of emerging thought leaders this year was really inspirational," said Tom McDevitt, chairman of the board of directors, The Washington Times. "These are the times in which efforts like those of the Steamboat Institute make a vital contribution in shoring up the willpower to overcome the myriad challenges we face in America."
In addition to naming Hadley Heath Manning as the 2016-17 Chair, the Steamboat Institute is announcing that previous Chairs Jillian Melchior and Tom Rogan will continue to work with the Steamboat Institute as Senior Fellows.
"In recognition of the outstanding contributions of Tom Rogan and Jillian Melchior, we are continuing our collaboration with each of them as Senior Fellows. We will be establishing a nationwide Tony Blankley Fellows Lecture Series and will also provide support for their investigative reporting on matters of national and global interest," said Schubert-Akin.
"Tom and Jillian's leadership as our first two Tony Blankley Fellows set this program on a great path," Schubert-Akin said. "As the trailblazers for this endeavor, we wanted to honor their contributions by naming them as our Senior Fellows."
About Hadley Heath Manning
Hadley Heath Manning is a senior policy analyst and director of health policy at the Independent Women's Forum. She frequently comments on health care, entitlements and economic policy, and manages IWF's health policy projects and publications. Manning appears frequently in radio and TV outlets across the country, including Fox Business' Stossel Show and Fox News' Your World with Neil Cavuto. Her work has been featured in publications including the Wall Street Journal, Forbes, POLITICO, Roll Call, Real Clear Policy, National Review Online and Huffington Post. In 2016, Manning was named to Forbes' 30 Under 30 list in Law and Policy. In 2015, the Republican National Committee honored her as a Rising Star, and in 2014, she was named to the Red Alert Politics 30 Under 30 list. She has also completed the National Review Institute's Washington Fellowship, class of 2012-2013. Manning graduated with distinction from the University of North Carolina in 2010 as a Morehead-Cain Scholar with a double major in economics and journalism.
About the Tony Blankley Chair for Public Policy and American Exceptionalism
The Tony Blankley Chair for Public Policy and American Exceptionalism was established by the Steamboat Institute to provide high-profile recognition and financial support to emerging conservative thought leaders who share the principles and ideals espoused by the late Tony Blankley and the Steamboat Institute. Those principles are lower taxes, limited government, free market capitalism, individual rights and responsibilities, and strong national defense.
Tony Blankley (1948-2012) was editorial page editor of The Washington Times. He served as press secretary for Newt Gingrich during his tenure as Speaker of the U.S. House of Representatives in the 1990s. He was also a regular panelist on The McLaughlin Group and later served as Executive Vice President with Edelman public relations in Washington, D.C. Mr. Blankley served as Conference Moderator for the Steamboat Institute's first three Freedom Conferences (2009, 2010 and 2011).
About Jillian Melchior
Jillian Kay Melchior, political editor at Heat Street, is a fellow for the Steamboat Institute and Independent Women's Forum. She does investigative reporting on domestic issues, including government waste, fraud and abuse, energy and environment issues, and organized labor. She has lived in China, reporting on Christianity and persecution, and has also done foreign correspondence in Iraq, Ukraine, Hong Kong, Macau, Taiwan, Eastern Europe and elsewhere.
She has worked as an investigative reporter for National Review and the Franklin Center, an editorial writer for The Daily, an online editor for Commentary, a Robert Novak fellow, and a Bartley Fellow at the Wall Street Journal Asia. Her writings have been published in National Review, The Wall Street Journal, Cosmopolitan, The New York Post, The Weekly Standard, Commentary, TechCrunch, The Detroit News and other publications. She is a graduate of Hillsdale College and a native of Cheyenne, Wyoming.
Follow Jillian on Twitter @JillianKayM
About Tom Rogan
In 2014, Tom Rogan was the recipient of the inaugural Tony Blankley Chair for Public Policy and American Exceptionalism. In 2015, in recognition of Tom's outstanding contributions as the inaugural Blankley Chair, the Steamboat Institute extended Tom's fellowship, naming him "Senior Fellow."
Rogan is based in Washington, D.C., and is a columnist for both National Review and Opportunity Lives. He is a panelist on The McLaughlin Group and makes frequent appearances on various TV programs, including The Greg Gutfeld Show, Real Time with Bill Maher, Fox News, CNN, Newsmax TV, BBC News and many others. Rogan is an honors graduate of King's College of London (War Studies) and a graduate of the law program at The College of Law, London.
Follow Tom on Twitter @TomRtweets
About the Steamboat Institute
The Steamboat Institute is a Colorado-based 501(c)(3) non-partisan educational organization, founded in 2008. The Steamboat Institute promotes America's first principles and inspires active involvement in the defense of liberty.
For more information on the Steamboat Institute, the Tony Blankley Chair and the 8th Annual Freedom Conference & Festival, Aug 26-27, 2016, please visit steamboatinstitute.org.