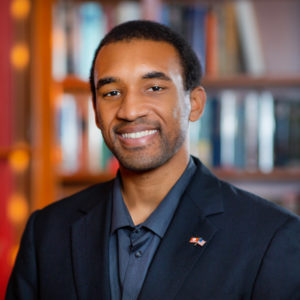 By Stone Washington
The Steamboat Institute, in partnership with the Ed Snider Center on Free Enterprise, recently hosted an exhilarating discussion between two respected experts in financial investing. The debate, held at the University of Maryland College Park (UMCP), addressed how environmental, social, and governance (ESG) factors impacted individual investment decisions. As part of every Campus Liberty Tour debate, Steamboat posed a thematic statement to assess what people really thought about ESG. The statement gauged whether "ESG investment practices are harmful to the economy," leaving audience members to poll either in favor or against this.
Arguing for the affirmative Michael Faulkender, Professor of Finance in the Robert H Smith Business School. Arguing in the negative was Desiree Fixler, a sustainable finance professional. Moderating the debate was Gerard Baker, Editor-at-Large of the Wall Street Journal. Baker situated the topic as part of the broader debate over how ESG is factored toward investment decision-making.
Baker pondered whether asset managers should be given free rein to utilize investments to pursue environmental objectives or social justice causes. With the understanding that these firms are doing what is "right for the world" and "right for humanity." Or, should individual investors possess the sole authority to decide how their investments are utilized, whether for ESG or not?
Some critics assert that individual investors and (in certain cases) policymakers, possess exclusive control over ESG investing decisions. The pre-debate poll found that among 150 individuals, 51 percent felt that ESG investment practices were not harmful to the economy, compared to 30 percent who were unsure, and 19 percent who felt it was harmful. This meant that only a razor thin majority of viewers felt that ESG investment practices were not harmful, leaving the other half of the audience split between perceiving ESG as harmful or being unsure about ESG.
Given that ESG investing has been a niche topic among investors and scholars alike, public unawareness of this issue is not surprising. Professor Faulkender provided opening remarks to kick off the debate. The central issue raised was how investors are two steps removed from managing their capital. For an investment vehicle like ESG, decisions are managed not by individual investors, but by corporate leaders, portfolio managers, and a range of institutional investors (i.e., mutual funds, exchange-traded funds, etc.).
With ESG, these financial gatekeepers often possess ulterior motives that run contrary to an investor's best interests, running the risk of damaging their long-term financial future. One motive is to shift investor capital away from fossil fuel companies and toward "cleaner" energy alternatives.
"The concern is that they are using other people's money to purposively drain capital from key American industries, undermine the direction of our economy, and in the process, potentially reduce the retirement income to the American people," Faulkender stated. In this way, ESG was perceived as deceptive redistribution of investor capital, hoisted away from traditional channels to fund external political agendas like net-zero benchmarks and corporate diversity quotas.
Faulkender also took issue with how an ESG approach to investment management constricts an investor's range of options. Politically disfavored industries like firearm manufacturing, private prisons, and natural gas companies are cast to the wayside without any viable substitution. This often contributes to decline in value across ESG funds that perform progressively worse than non-ESG alternatives.
Beyond the internal issues attached to ESG investing, Faulkender points to the broader problem with how ESG is perceived differently by investors and non-investors alike. There is no unified consensus over what ESG truly is. "When a standard like ESG is murky in the eye of the beholder, its impossible to enforce", Faulkender explains. "How do executives, investors, or courts trade off shareholder returns against subjective environmental, societal and governance impacts of firms?"
Desiree Fixler countered Professor Faulkender's criticism of ESG. In her address, Fixler framed two primary goals for ESG—profit maximization for shareholders and impact investing, which can sometimes come at the expense of profit generation. Impact investing is where investors spend their money towards political causes that will produce a positive outcome on the environment or some marginalized community.
According to Fixler, within the estimated $30 trillion of ESG assets, only about $1 trillion is housed in actual impact investing, while $3 trillion is placed in dedicated sustainable strategies, which combine to form the core of ESG. The rest pertains to risk and opportunity practices concerned with capital allocation.
"The reality is that ESG is not some sort of strategy to prioritize social outcomes over profit maximization", Fixler asserts, "it has been very profit driven." She argues that ESG has been misbranded and mismarketed by big corporations through a practice known as "greenwashing", which has become more heavily regulated by federal agencies like the Securities and Exchange Commission.
Greenwashing is where corporations promote sustainability and environmental renewal before the public eye, while secretly pursuing practices that contradict their pledges. Fixler attributes the exposé of greenwashing to why ESG funds severely underperformed in 2022, contrasting with Faulkender's argument that ESG portfolio limitations largely accounted for underperformance.
"For energy security, we need to hedge and ween ourselves off of fossil fuels. We need more energy efficient machinery", Fixler states. "There is regulation; let's face it, this is new world. Whether you want to peddle your products and services in the EU or California, you need to consider environmental and social factors".
Following this insightful discussion, there was a significant shift in audience views toward ESG. The post-debate poll revealed that 51 percent of audience members felt that ESG investment practices were harmful to the economy, while only 19 percent believed ESG did not pose a harm.
This left 14 percent undecided. This presented a complete reversal in majoritarian views toward ESG, as a slight majority became convinced that pursuing an ESG investment approach was not economically practicable.
ESG continues to remain an important topic of debate among policymakers, financial regulators, and business executives. While the honeymoon phase of institutional ESG embrace has largely dissipated, it remains a hot-button policy issue across state legislatures. For those who are ESG experts or are new to investing, the Steamboat Institute's Campus Liberty debate provides an informative outlook into the fascinating dynamics of ESG investing.
Stone Washington is a member of Steamboat Institute's Emerging Leaders Council.