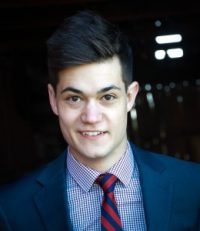 Washington Examiner writer will continue proud tradition honoring conservative icon and Steamboat Institute supporter Tony Blankley.
The Steamboat Institute announced today that it has awarded Philip Wegmann the Tony Blankley Chair for Public Policy and American Exceptionalism for 2018-19. Philip will receive a $10,000 stipend, travel expenses, speaking engagements, public relations/social media support, and extensive networking opportunities. The award will be announced at the Steamboat Institute's 10th Annual Freedom Conference & Festival Aug. 10th-11th during the keynote dinner featuring Secretary of the Interior Ryan Zinke.
Philip is a writer for the Washington Examiner. He drafts editorials, comments on the issue of the day, and has done investigative reporting on congressional corruption and institutional malfeasance.
In addition, Wegmann has worked as a radio producer and congressional correspondent. He can be seen regularly on CNN, Fox, and Fox Business and his voice has been heard on the BBC, NPR, and numerous other radio outlets. Wegmann was a fellow of the America's Future Foundation writing program, a Publius fellow of the Claremont Institute, and an Eagle Scout. He is a graduate of Hillsdale College.
Read Philip's clips here. Find out more about the Tony Blankley Fellowship here.
Philip follows in a proud tradition of Blankley Fellows. Past recipients include Kelsey Harkness, senior news producer at The Daily Signal, Hadley Heath Manning, director of health policy at the Independent Women's Forum, Jillian Melchior, editorial page writer at The Wall Street Journal, and Tom Rogan, columnist for the Washington Examiner and host of The McLaughlin Group.
The Steamboat Institute established the Tony Blankley Chair for Public Policy and American Exceptionalism to honor the memory of its dear friend, Tony Blankley, and to build on his legacy. Tony Blankley was a master journalist and communicator and acted as the moderator for the Steamboat Institute's first three Freedom Conferences (2009, 2010 and 2011).
"It is an honor to receive the Tony Blankley Chair for Public Policy and American Exceptionalism," said Philip Wegmann. "I look forward to continuing the proud tradition of the Blankley Fellowship by defending America's founding principles shared by the Steamboat Institute and in doing so honor the legacy of Mr. Blankley."
"The Steamboat Institute is excited to award the Tony Blankley Chair for Public Policy and American Exceptionalism to Philip Wegmann of the Washington Examiner," said Jennifer Schubert-Akin, Chairman and CEO of the Steamboat Institute. "The exceptional quality of the pool of applicants is a testament to the legacy of Tony Blankley and to the important work of the Steamboat Institute in promoting individual liberty and American Exceptionalism.  We are confident that Philip will be an exemplary Blankley Fellow and we are proud to support this outstanding young journalist."