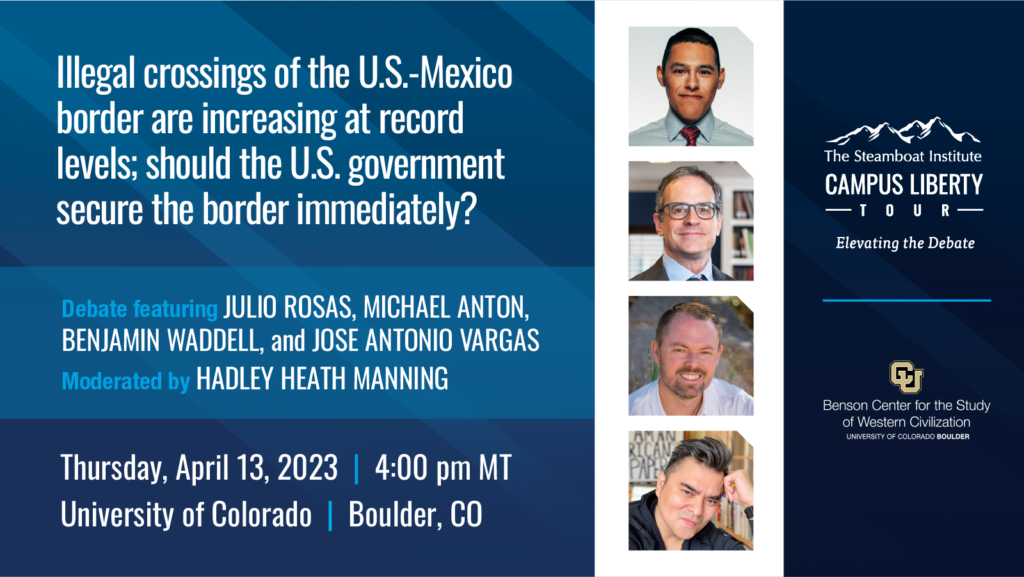 The Steamboat Institute, in cooperation with the Benson Center for the Study of Western Civilization at the University of Colorado Boulder, has announced that the second event on the 2023 Campus Liberty Tour will be a debate on the resolution, "Illegal crossings of the U.S.-Mexico border are increasing at record levels; the U.S. government must secure the border immediately."
The debate will be held April 13 at Chancellor's Hall on the CU Boulder campus, and will feature opening remarks by Chancellor Philip DiStefano.
Julio Rosas and Michael Anton will argue the affirmative on the resolution, while Benjamin Waddell, Ph.D, and Jose Antonio Vargas will argue the negative. The debate will be moderated by Steamboat Institute Blankley Fellow Hadley Heath Manning, Vice President for Policy at the Independent Women's Forum.
The Steamboat Institute is partnering with the Benson Center, part of the College of Arts and Sciences at the university, which promotes study of the intellectual, artistic and political traditions that characterize Western civilization, while fostering dialogue on controversial questions.
"As the Campus Liberty Tour moves into its sixth year, we are looking forward to bringing another round of robust debates to college campuses," said Steamboat Institute Chairman & CEO Jennifer Schubert-Akin. "Our goal is not to tell students what to think, but to help teach them how to think critically about information that's being presented to them."
Julio Rosas is the Senior Writer for Townhall. He has previously written at the Washington Examiner, Mediaite, and Independent Journal Review. He is also currently serving in the Marine Corps Reserves.
Michael Anton is a lecturer in politics and research fellow at Hillsdale College's Kirby Center in Washington, DC. He previously served in national security positions in the Trump and Bush (43) administrations, as well as in gubernatorial administrations in California and New York.
Benjamin Waddell is an associate professor of sociology, criminology, and borderlands at Fort Lewis College in Colorado. His work has been published in Sociology of Development, Latin American Research Review, The Social Science Journal, Rural Sociology, Huffington Post, The Conversation, and The Week.
Jose Antonio Vargas is a Pulitzer Prize-winning journalist, Emmy-nominated filmmaker, and a leading voice on the rights of immigrants. He is founder of the non-profit media advocacy organization Define America.
"The Steamboat Institute's Campus Liberty Tour brings diverse perspectives and civil debate to some of the most politically important issues of our time," said Daniel Jacobson, director of the Benson Center. "The Benson Center is pleased to partner with the Steamboat Institute to promote free inquiry and intelligent debate on crucial topics of public policy to the CU community."
Tickets to this Campus Liberty Tour event are free and may be obtained here.