2016 Summit on Foreign Policy & Global Security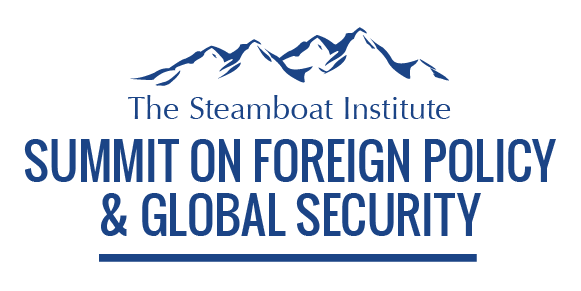 Sponsors
The Steamboat Institute is incredibly grateful for our generous sponsors.
Title Sponsor: Mr. Jean Sagouspe
El Pomar Foundation
The Lowe Family
The MacArthur family
Military & Veterans Table Sponsor: Latham Marine

Miss the event? Check out the full schedule, speaker bios and more HERE!
Read some of the great feedback we've gotten so far on the Summit:
"The depth of knowledge that was on that stage was incredible and a real testament to you and Steamboat Institute's mission that you were able to pull together such an amazing group in such a short time. The event was hands down the most well run event I've been a part of…" – Ben Collins, U.S. Army Special Forces veteran (Green Beret); Fox News commentator; panelist on "Middle East Mayhem:  Radical Islam, Iran and ISIS" panel 
"Thank you and your team for putting together such a great program!" – Joel Wefel, Mountain West Insurance & Financial Services – Steamboat Springs, CO
"The (Summit) was one of your best.  I thoroughly enjoyed every speaker, especially what I learned about China, Russia and Syria." – Nancy Bretz – Steamboat Springs, CO
"This group of speakers was absolutely the best I have seen, ever!" – Chuck McConnell – Steamboat Springs, CO
"The knowledge in the room was simply mindblowing…truly a world-class assembly!" – John Kuhn – Steamboat Springs, CO
"What a spectacular one day program on Foreign Policy &  Global Security.  I felt like I was in a different world hearing these speakers.  It really gets you out of your comfort zone on your thinking.  It is so refreshing to hear informed speakers talk on the various subjects." –Frank Middleton – Centennial, CO
About the Summit on Foreign Policy & Global Security
Our nation and, indeed, all of Western civilization is under assault by forces seeking our absolute and total destruction.  It is critical that both our leaders and our citizens fully understand the threats to our security and the foreign policy strategies needed to secure the freedom and security of America and our allies.
This Summit will feature in-depth discussion by military leaders, members of Congress, conservative thought and policy leaders in think tanks and academic institutions, government officials, Presidential candidates and nationally recognized journalists.
The goal of this Summit is not only to foster a better understanding of these critical foreign policy and global security questions but also to propose solutions to these questions which threaten the very existence of Western civilization.
We hope you will join us in the spectacular Rocky Mountain setting of Steamboat Springs, Colorado, for this all-day summit on Friday, January 22, 2016, at the Steamboat Grand resort hotel.  The summit will conclude on Friday evening with a keynote dinner, featuring a nationally recognized leader in foreign policy and global security issues.