The Nexus of U.S. Energy Policy, Climate Science, Freedom and Prosperity
Yet you can view all panel discussions and purchase books by the speakers below.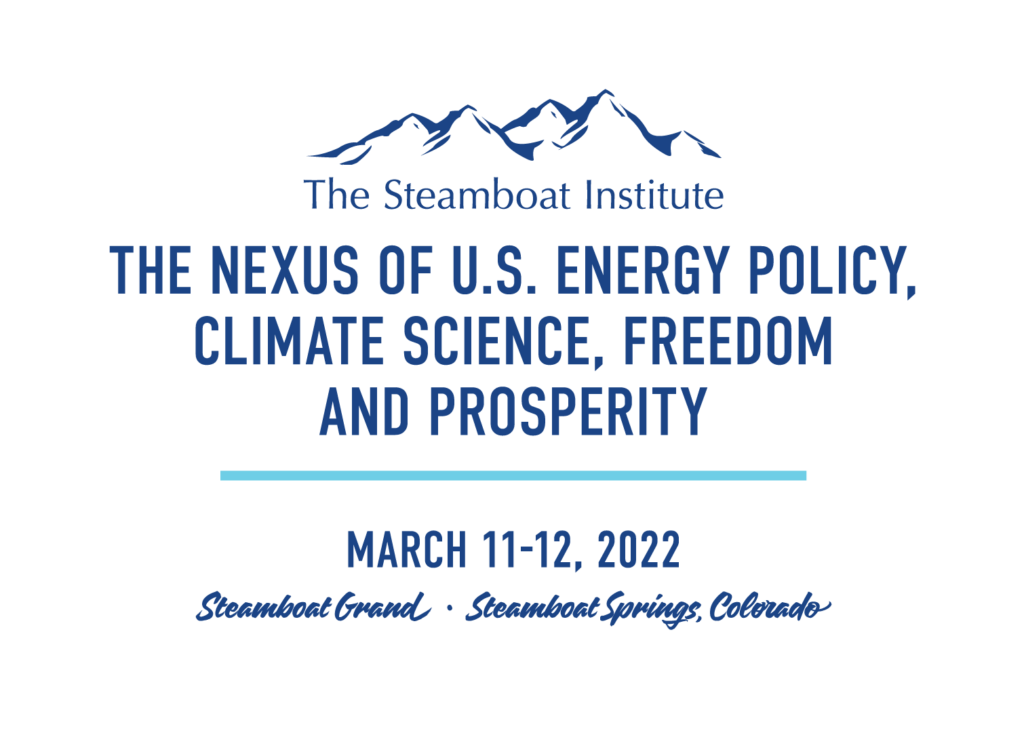 All the things we care about tie back to one simple question: Can you turn your lights on in the morning?
Whether it's cryptocurrency in Iceland, marijuana cultivation in Colorado, or a  small woman-owned business in Ethiopia, the need for cheap, abundant electricity is critical. Across the globe, Power = Power. But how do we plug in every person on the planet without killing the planet?
Steamboat Institute's Energy and Climate Summit featured in-depth discussion, debate and analysis by climate scientists, members of Congress, government officials, filmmakers,  educators, and nationally recognized journalists.
"Unsettled: What Climate Science Tells Us, What It Doesn't and Why It Matters"
Featuring
Steven Koonin, Ph.D.
Undersecretary for Science in the Obama Administration Energy Department
Author of Unsettled: What Climate Science Tells Us, What It Doesn't, and Why It Matters
"Should America Rapidly Eliminate Fossil Fuel Use to Prevent Climate Catastrophe?"
Featuring
President and Founder of the Center for Industrial Progress
(Moderated by Dan Njegomir – Editorial Page Editor at Denver Gazette)
"Why an All of the Above Energy Strategy, Including Oil, Gas and Coal, is Essential"
Featuring
Aurelia Skipworth Giacometto

Businesswoman, biologist and lawyer
Director of U.S. Fish & Wildlife Service 2019-2021
Chris Wright
(Moderated by Drew Bond – Cofounder and President of C3 Solutions)
"The Cost of Climate Alarmism"
Featuring
Bjorn Lomborg, Ph.D.
President of the Copenhagen Consensus Center
Author of False Alarm: How Climate Change Panic Costs Us Trillions, Hurts the Poor, and Fails to Fix the Planet
How to Spend $75 Billion to Make the World a Better Place
The Skeptical Environmentalist: Measuring the Real State of the World
Cool It: The Skeptical Environmentalist's Guide to Global Warming
The Nobel Laureates Guide to the Smartest Targets for the World 2016-2030
&
Smart Solutions to Climate Change: Comparing Costs and Benefits
"Avoiding Blackouts: The Future of U.S. Energy Policy and Lessons Learned from the 2021 Texas Power Outage"
Featuring
Blu Hulsey
Senior Vice President at Continental Resources
Jacki Pick Deason
"The Impact of Current Global Crisis on U.S. National Security, Energy Policy, and Your Family's Freedom & Finances"
Featuring
James Carafano
Vice President for National Security and Foreign Policy, The Heritage Foundation
Author of: Brutal War: Jungle Fighting in Papua New Guinea, 1942
Wiki at War: Conflict in a Socially Networked World Nov 28, 2011
&
Private Sector, Public Wars: Contractors in Combat – Afghanistan, Iraq, and Future Conflicts (Changing Face of War)
Lakshman Guruswamy, Ph.D.
(Moderated by Philip Wegman — White House Reporter for Real Clear Politics and Tony Blankley Senior Fellow at the Steamboat Institute)
"The American Energy, Jobs and Climate Plan"
Featuring
Micah Chambers
Legislative Director for U.S. Senator Kevin Cramer (R-ND)
"Carbon and Climate Catastrophe"
Featuring
Patrick Moore, Ph.D. 
Director of the CO2 Coalition
Founder and Past President of Greenpeace