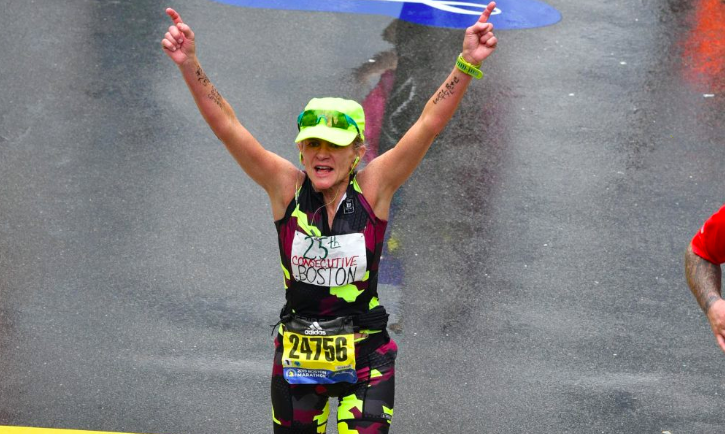 Voyage Denver recently profiled Jennifer Schubert-Akin, Chairman and CEO of The Steamboat Institute, highlighting her life and work "on the run," which Jennifer describes as a metaphor for life.
Read the full profile HERE and an excerpt below.
Life and Work with Jennifer Schubert-Akin
Today we'd like to introduce you to Jennifer Schubert-Akin.
Jennifer, let's start with your story. We'd love to hear how you got started and how the journey has been so far.

A Quarter Century of the Boston Marathon, 1995-2019. On April 2, 1990, I ventured out the door of our home in Austin, Texas, for my first run. I was 15-20 pounds overweight and tired of hearing my co-workers talk about the latest 5K and 10K races they had run. In those days, my idea of a "workout" was mixing a cocktail then spinning for 15-20 minutes on my stationary bike while enjoying my cocktail and watching TV!
On the suggestion of a friend who was a runner, I put on my "tennis shoes," with the goal to attempt to run for 15 minutes without stopping. I made it 17 minutes and felt as if I had conquered the world!
In April 1993, I ran my first marathon, Big Sur, in California. It was incredibly beautiful and inspiring, and I was hooked. Then, in December 1994, I qualified for the Boston Marathon by finishing the Dallas White Rock Marathon with just 13 seconds to spare!
I ran my first Boston Marathon in 1995, while it was still a relatively small race, with fewer than 10,000 runners. Timing chips had not even been invented yet. My finish time was good enough to qualify for the next year, so I returned to Boston… and qualified again… and again… and again!
This annual rite of Spring has become an important and thoroughly enjoyable part of life for my husband, Rick Akin, and me. In recent years, however, there have been some significant challenges which threatened to derail my dream of finishing 25 consecutive Boston Marathons.
In April of 2013, I crossed the finish line of my 19th consecutive Boston Marathon, less than ten minutes before two bombs exploded near the finish line. My husband, Rick, was waiting for me near the finish line. While hundreds of people suffered injuries and three people lost their lives that day, Rick and I were extremely fortunate to be spared.
In April of 2016, the Denver airport was closed due to a major snowstorm, cancelling all flights, including our flight to Boston. Rather than sit in Denver and hope for things to change, we drove all night, through a driving rainstorm…
Read the full profile HERE.