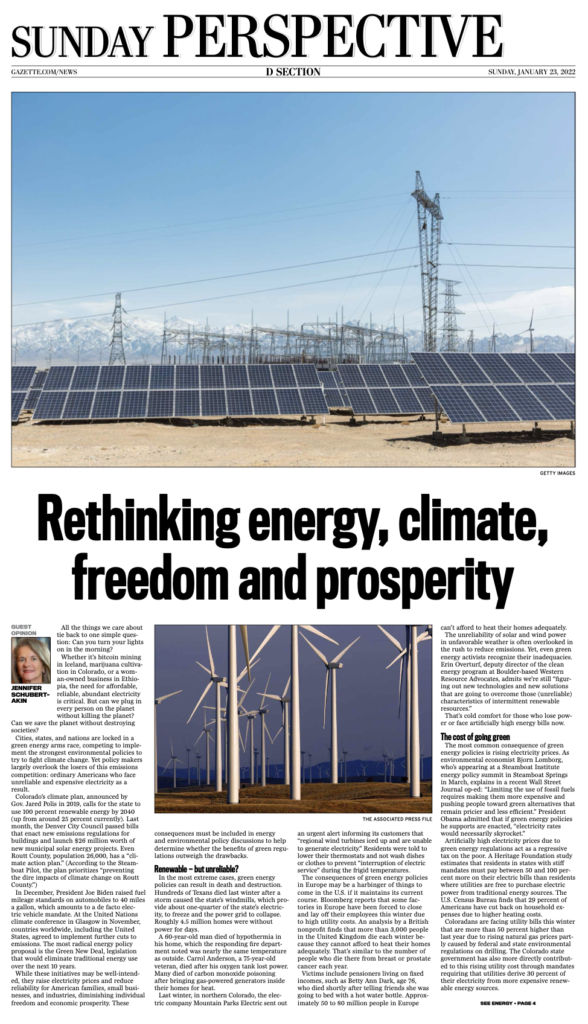 The Denver Gazette and Colorado Springs Gazette recently ran an extended front-page op-ed by Jennifer Schubert-Akin, CEO and Chairman of the Steamboat Institute, featuring SI's upcoming Energy & Climate Policy Summit March 11-12 in Steamboat Springs. The op-ed, "Rethinking Energy, Climate, Freedom and Prosperity" explains why the consequences of green energy, namely increased costs and reduced reliability, must be a part of any debate about the future of energy policy.
The Steamboat Pilot and Grand Junction Daily Sentinel also ran a version of the op-ed. Jennifer appeared on Mandy Connell and Ross Kaminsky on KOA and Rush to Reason on KLZ (click on the links to listen to the segments) to discuss the op-ed and the upcoming summit, "The Nexus of U.S. Energy Policy, Climate Science, Freedom and Prosperity."
The op-ed themes and more will be discussed by leading bipartisan energy policy experts, including Bjorn Lomborg, one of the world's top environmental economists; Steven E. Koonin, undersecretary for science in the Obama administration; Aurelia Skipwith Giacometto, former Fish and Wildlife Service director; and Patrick Moore, co-founder and past president of Greenpeace. Click HERE to find out more and register.

Jennifer Schubert-Akin | Jan 23, 2022
Rethinking energy, climate, freedom and prosperity
All the things we care about tie back to one simple question: Can you turn your lights on in the morning?
Whether it's bitcoin mining in Iceland, marijuana cultivation in Colorado, or a woman-owned business in Ethiopia, the need for affordable, reliable, abundant electricity is critical. But can we plug in every person on the planet without killing the planet? Can we save the planet without destroying societies?
Cities, states, and nations are locked in a green energy arms race, competing to implement the strongest environmental policies to try to fight climate change. Yet policy makers largely overlook the losers of this emissions competition: ordinary Americans who face unreliable and expensive electricity as a result.
Colorado's climate plan, announced by Gov. Jared Polis in 2019, calls for the state to use 100 percent renewable energy by 2040 (up from around 25 percent currently). Last month, the Denver City Council passed bills that enact new emissions regulations for buildings and launch $26 million worth of new municipal solar energy projects. Even Routt County, population 26,000, has a "climate action plan." (According to the Steamboat Pilot, the plan prioritizes "preventing the dire impacts of climate change on Routt County.")
In December, President Biden raised fuel mileage standards on automobiles to 40 miles a gallon, which amounts to a de facto electric vehicle mandate. At the United Nations climate conference in Glasgow in November, countries worldwide, including the United States, agreed to implement further cuts to emissions. The most radical energy policy proposal is the Green New Deal, legislation that would eliminate traditional energy use over the next 10 years.
While these initiatives may be well-intended, they raise electricity prices and reduce reliability for American families, small businesses, and industries, diminishing individual freedom and economic prosperity. These consequences must be included in energy and environmental policy discussions to help determine whether the benefits of green regulations outweigh the drawbacks.
Read the full op-ed in the Denver Gazette HERE.