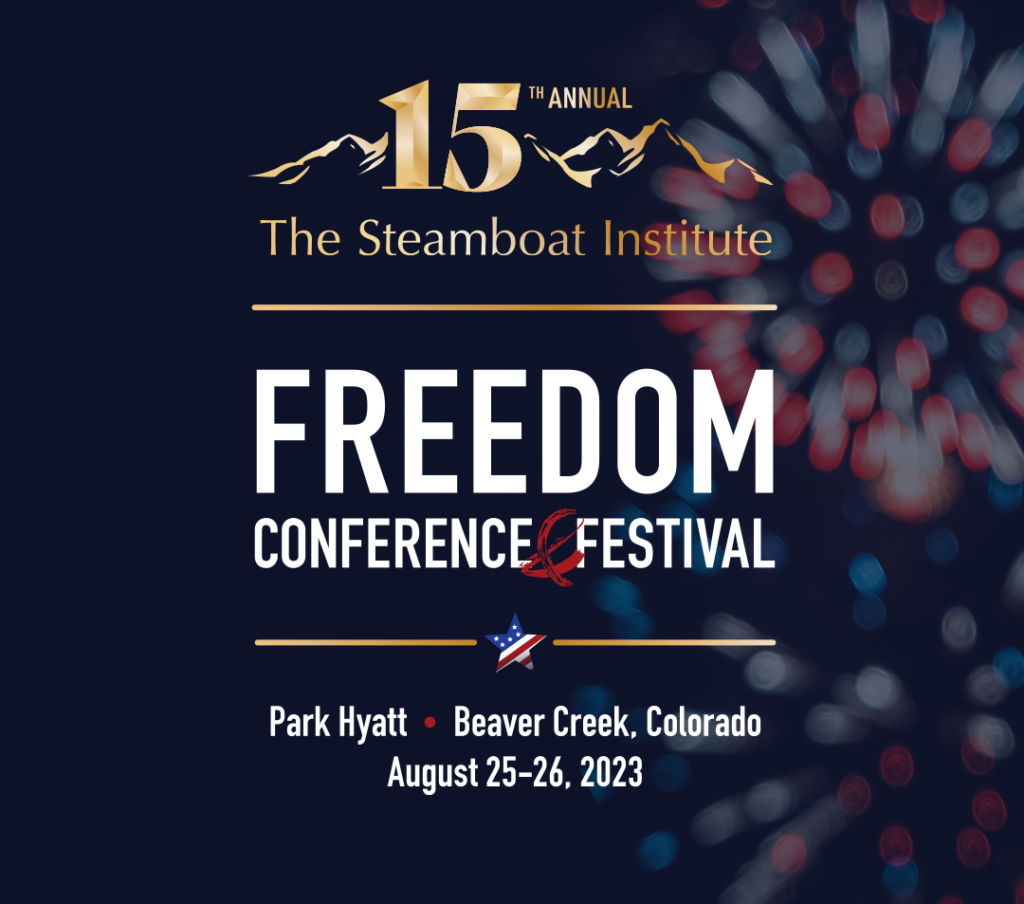 ** Best Minds in Politics & Policy On Stage in Beaver Creek **
STEAMBOAT SPRINGS, CO – South Dakota Governor Kristi Noem has joined the list of luminaries from media and politics who will speak at the Steamboat Institute's 15th Annual Freedom Conference in Beaver Creek. 
Noem will discuss how her approach of "less government, more freedom" helped lift her state both economically and culturally, at the luncheon address on Saturday, August 26.
On Friday evening, August 25, long-time Fox News host and Colorado State University graduate Dana Perino will present the evening keynote address. 
Riley Gaines, 2022 Southeastern Conference Women's Swimming & Diving Scholar-Athlete of the Year, will speak about fairness in women's sports.
Sebastien Lai, son of imprisoned Hong Kong entrepreneur and freedom activist Jimmy Lai, founder of the Apple Daily, will also appear at the conference, in a discussion with Wall Street Journal editorial board member Jillian Melchior.
Mark Calabria, former chief economist to Vice President Mike Pence and former director of the Federal Housing Finance Agency, will be on hand to discuss what the government should be doing to fix the homelessness crisis.  Law professor Todd Zywicki will discuss how to restore sanity to academia, and Heritage Foundation President Kevin Roberts will give the opening address on reaffirming American exceptionalism.
The conference will also include a panel discussion on how the national decarbonization movement is affecting the reliability of affordability of electricity, with Alice Jackson of Xcel Energy, former Director of the U.S. Fish & Wildlife Service Aurelia Giacometto, and Robert Bryce, documentary film producer and host of the podcast, Power Hungry. 
"Steamboat Institute is honored to welcome to Colorado so many leaders who are passionate about the ideas that will inspire Americans to greatness," said Steamboat Institute Co-founder and CEO Jennifer Schubert-Akin. 
Steamboat Institute will also announce the 2023 Tony Blankley Fellows for Public Policy and American Exceptionalism, Kaylee McGhee White and George E. Bogden, as well as the 2023 Courage in Education Award winner, Cornell University professor Randy O. Wayne.
The conference will open and close with performances by award-winning international singer Mary Millben.
See the full list of speakers and register to attend the Freedom Conference here. 
###
Contact: Khristine Brookes at [email protected] – (970) 439-0741